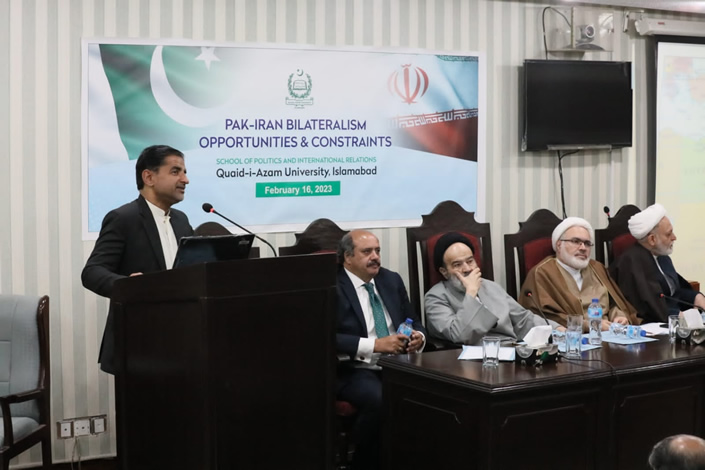 Quaid-i-Azam University, Islamabad (QAU) hosted a delegation of Iranian academics to discuss Pakistan-Iran bilateral relations, exploring avenues for cooperation, and challenges facing the two countries. In this regard a conference "Pakistan-Iran Bilateralism: Opportunities and Constraints" was organized by the School of Politics and International Relations (SPIR) QAU.
While addressing the conference speakers discussed cultural, academic, economic, politico-cultural relations, and explicated the opportunities for formation of a South Asian Muslim identity. Dr. Zafar Nawaz Jaspal, Director School of Politics and International Relations (SPIR) chaired the conference, whereas Dr. Nazish Mahmood moderated the event.
Dr. Syed Abolhassan Navab, President of the University of Religions and Denomination, Iran shared his extensive experience of engaging with Pakistani academia, state, and public at large. He said Pak-Iran relations could not develop as per their potential, especially at socio-cultural level. Highlighting the importance of developing people-to-people relations, he expressed his vision to establish an Urdu chair at the University of Religions and Denomination in near future.
Dr. Qandeel Abbas, Associate Professor, School of Politics and International Relations, QAU, reiterated Dr. Abolhassan's conviction that Pak-Iran border is one of love, peace, and friendship. For both sides, it is the only border with no conflicts. He spoke of commonalities such as "common faith, history, and cultural linkages". He furthered that trade, culture, and security shared views offer areas for bilateralism.
Dr. Javed Iqbal, Faculty School of Economics, discussed the Pak-Iran economic opportunities. . He also shared figures on Pak-Iran bilateral trade: the relation is characterized by an imbalance tipped in favor of Iran. He pointed to the high Iranian tariffs on Pakistan's textile and leather products. These tariffs, as high as 120% to 200% on some items. Dr. Javed Iqbal also pointed out to the absence of banking channels as single biggest stumbling block in way of ameliorating economic relations.
Prof. Dr. Najaf Iakzee, Director of Islamic Sciences and Culture Academy, Iran, shed light on the twin dimensions of political and academic relations among the two countries. Whereas the state-to-state relations have developed over the years, the people-to-people relations could not take off and come at par with the political relations. H.I. Abdolhadi Masoudi, President, Quran and Hadith University, Tehran also addressed the audience and shed light on the Pak-Iran Academic Relations.
A Memorandum of Understanding (MoU) was also signed between Quaid-i-Azam University, (QAU) and University of Religions and Denomination (URD) Iran to promote the academic and educational activities including exchange of the faculty and students. Deans of the faculties, Chairpersons of the department, senior faculty and officers attended the ceremony.