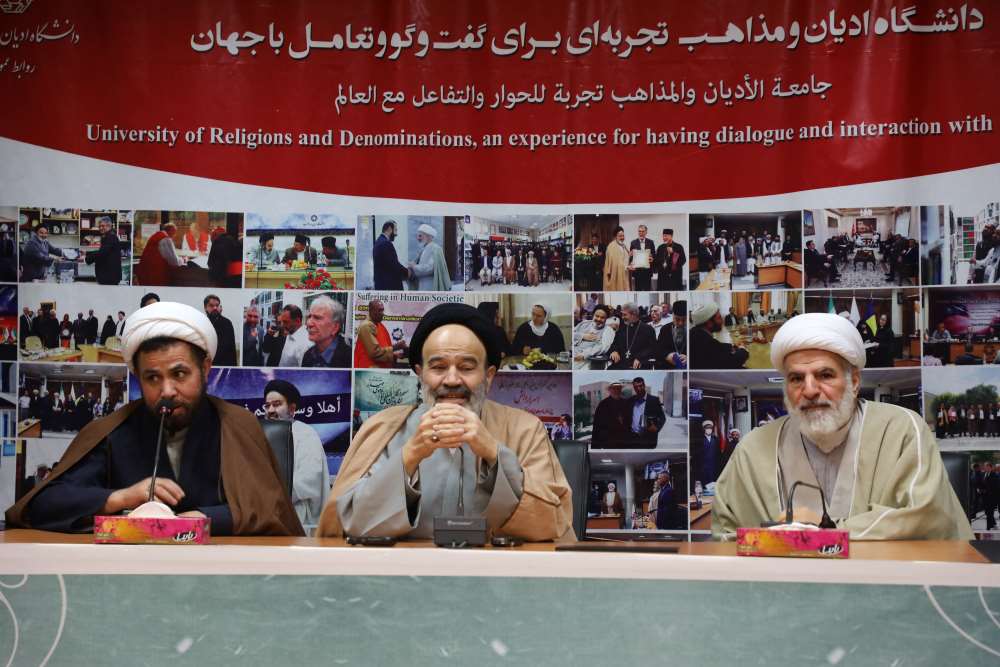 According to the public relations report of the university, a group of Sunni scholars and professors from Pakistan visited the Religions and Denominations University, while visiting various departments and getting to know the scientific, educational and research capacities of this university, met and discussed with Hojat-ul-Islam-wal-Muslimin, Dr. Sayed Abul Hassan Nawab.
According to this report; Hujat-ul-Islam-wal-Muslimin Sayed Abul Hassan Nawab while welcoming the Sunni scholars, referring to his presence in Pakistan and said: I have traveled to Pakistan twice and maybe I have seen Pakistan more than some of the friends who are in this meeting. I have traveled to Karachi, Hyderabad, Multan, Faisalabad, etc. I have seen all the villages and cities on this route. I know Golgit and some other places very well. I have seen and know the Hossein Abad, Mohammad Abad, etc. villages well.
He continued: In my opinion, Pakistan is the most important country in the Islamic world for ten reasons. I had a speech and I gave this speech in front of Qazi Hussain and all the leaders of Pakistan such as Samiul-Haqh … and I stated these ten reasons. My first reason is that Pakistan has the largest number of Muslims in the world in one country. Some say that Indonesia is the largest Islamic country. You should know that 10% of people in Indonesia are Christians and Pakistan has the most Muslims.
The president of Religions and Denominations University said: The second reason is that Pakistan is located in a sensitive area and located in West of Asia. The third reason is that Pakistanis have spread and migrated all over the world. You will definitely see employees from Pakistan in the world or international bank or international organizations. Even in the United Nations, employees from Pakistan are present. How your economy grew? Was asked of Mahatir Muhammad. He said that when the president expelled thinkers from the country, I attracted them and my economy grew.
He continued: Fourth reason, you are the first Islamic Republic in the world and Iran is the second Islamic Republic. Fifth, your country was created in the name of Islam. Your independence from India was because of Islam. This is why the word Pakistan was chosen for the country. Sixth, you have the largest number of clergymen in the Islamic world. Seventh, you have the largest number of students in the Islamic world. Only one of your universities that invited us, Iqbal Open University, has 1,800,000 students.
The president of Religions and Denominations University continued: Eighth, you have been and are undisputed supporters of Islamic movements. You stood by the oppressed people of Afghanistan with all your heart. I was in Peshawar when it was like a barracks. Pakistani army were sent to Pakistan to fight against Soviet Union. I have seen these up close. The ninth reason is that, from the beginning of the Iranian revolution, Pakistan was with our country and there was no threat or disturbance to our country.
He added: The most important and tenth reason is that Pakistanis are the most religious Muslim people in the world. This is said by someone who has traveled 600 times abroad and is familiar with different countries. I have visited most of the Islamic countries several times. My brother was martyred in the war in Bosnia and I have been present and seen in all the conflicts of Iraqi Kurdistan, Myanmar and Azerbaijan and the conflicts of the Islamic world, and what I am saying is from my own observations. I saw a lot of signs in the Pakistan's street to pray. You are at the head of Islam. Imam Reza (PBUH) said: I heard from my father, my father from his father until it reached the prophet (Imam Ahmad ibn Hanbal says that if you read this chain of hadith over a mad person, he will be cured). Because it is the name of 8 Shiite imams, the hadith is this: the word there is no God except Allah is a castle and who inter that castle is safe from my torment, and I am one the conditions. I also said that Pakistan has ten characteristics under certain conditions. The condition for maintaining Pakistan with this authority is only and only unity.
Hojat-ul-Islam-wal-Muslimeen Sayed Abul Hasan Nawab, at the end of his speech, referred to the people of Pakistan as the bravest Muslims and said: England was in Pakistan for many years and could not make an effect on the people. America was there for many years, but it has achieved nothing. Iraq conquered Kuwait within two hours, but India has not been able to occupy even two centimeters of Pakistan soil for 40 years, and this is due to the bravery of Pakistan's soldiers.