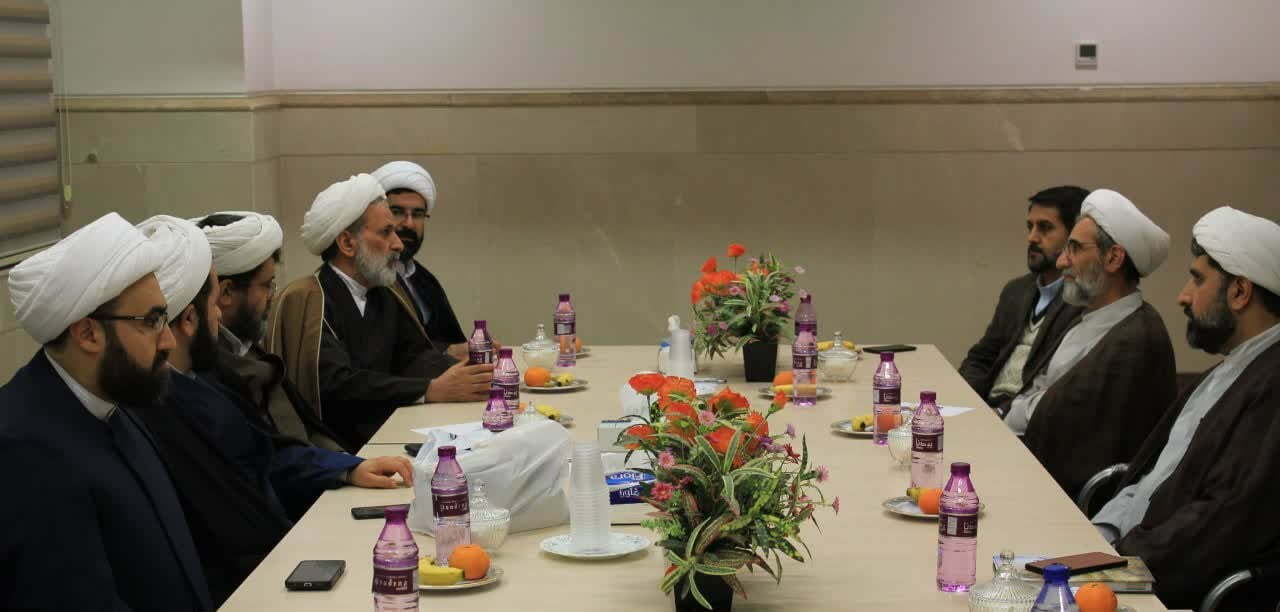 Officials and members of science group of the shiaology faculty visit the Shialogy Specialist Center of Ayatollah Makarem Shirazi (Hafazaho-Allah) and talks with officials and managers of the center to get acquainted with the activities of that center, and also use capacities of Shiaology faculty and shiaology Specialist Center in Scientific, Educational and Research.
The meeting that hosted by the Shiaology Specialist Center on Sunday, 09/09/13, Hojat-ul-Islam-wal-Muslim Shahidi, the Honorable President of the Shiaology Specialist Center, as welcomed the faculty Collection, introducing various departments and the built history of them. And said the main purpose of launching the center is fulfilling the concern of Ayatollah Makarem Shirazi in order to familiarize the religious scholars with the teachings of the Prophet (pbuh) along with the jurisprudential and principled discussions They did.
Then Hojat-ul-Islam-wal-Muslim Shahidi introduced the departments of the center and reported a brief report on activities and presented the ongoing programs of each department.
Following the meeting, the respected deputies of the Center hojaj-e-Islam Mr. Mansouri and Madadi also presented a detailed report on their activities.
Following the report of the Center's officials, Dr. Jafar Tayyari expressed his satisfaction of meeting with the center's officials, presents a report of the activities of the University of Religions and Denominations and the Shiaology faculty, and prepares the faculty for bilateral interaction and cooperation in the fields of Educational, scientific and research.
Following this meeting, the Honorable President of the Shiaology faculty, Dr. Lotfi, also presented a report on the activities of the faculty and the plans and programs of the faculty, and one of the faculty's missions was interacting with the favorable centers and instituts, and emphasized the use of the capacity of the both side and the joint work in the fields of scientific, educational and research.
At the end of the meeting, the respected members proposed to pursue the capacities of cooperation and their interaction and operationalization between Shiaology faculty and the Shiaology Specialist Center are selected Hojaj-Islam Mr. Mansouri, Deputy of education center and Mr. MoshfeghyPor head of Education and Research Faculty.
It is noticeable in this meeting, the members of the Shiaology Science Department of Hajaj-e-Islam, Dr. Shariatmadari, Fayyazi (Manager of Shiaology group in English), Mollanouri, Dr. Javedan (Manager of Shiaology group), Dr. Tooran, and Mr. Ali Pour Were present.